UPDATE August 25, 2016
: "The Coast Guard set
port condition whiskey (pdf)
for
Port Miami
,
Miami River, Port Everglades, Port of Palm Beach, Port of Ft. Pierce
and
all other
South Florida terminals and facilities
at
4 p.m. Thursday
due to the expectation sustained
gale force winds
generated by Invest 99L may arrive within 72 hours. These ports and facilities are currently open to all commercial traffic and all transfer operations may continue while whiskey remains in effect.
Sustained winds between 39 and 54 mph are possible within 72 hours
. Mariners are reminded there are no safe havens in these facilities and ports are safest when the inventory of vessels is at a minimum. All ocean-going commercial vessels and ocean-going barges greater than 500 gross tons should make plans for departing the port. Vessels desiring to remain in port must immediately contact the Captain of the Port, Coast Guard Sector Miami at (305) 535-4472, to receive permission to do so and are required to submit a safe mooring plan in writing. Vessels bound for South Florida unable to depart 24 hours prior to threatening winds making landfall are advised to seek an alternate destination."
Read more here.
See also:
Coast Guard urges boaters to prepare for impending severe weather
.
Satellite View: GOES-East - IR Rainbow (30 minute updates)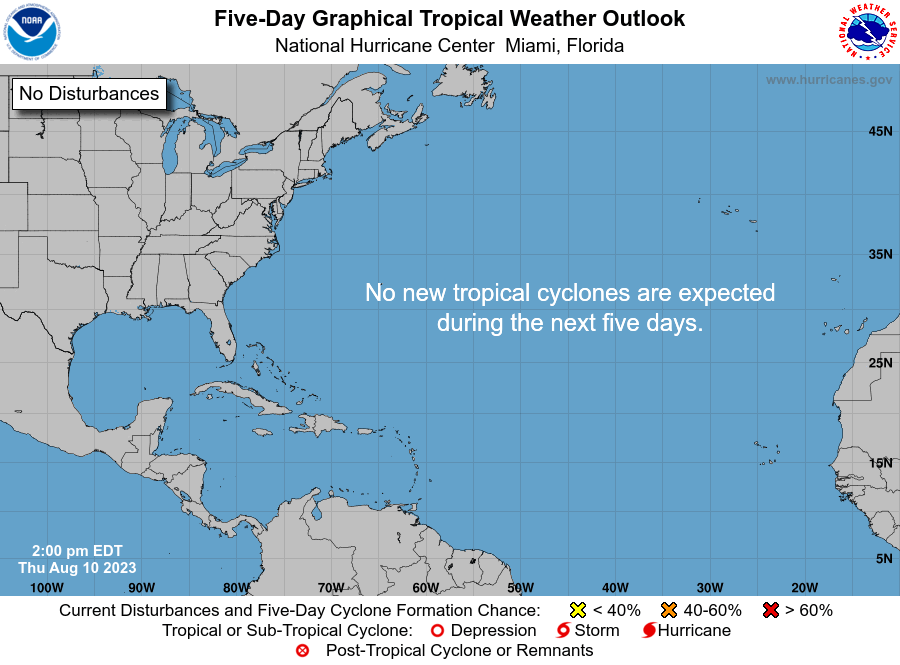 U.S. Coast Guard press release
- August 24, 2016 7:32:46 AM PDT: The U.S. Coast Guard advises mariners, recreational boaters, swimmers, surfers and the general public in Puerto Rico and the U.S. Virgin Islands Wednesday to remain vigilant, exercise good judgment and make any preparations in anticipation to an
incoming tropical wave
.

"We advise citizens and boaters to make preparations and monitor official weather updates as this tropical wave moves through the area," said Capt. Robert Warren, Sector San Juan commander and Captain of the Port San Juan. "Swimmers, recreational boaters and the general public should exercise caution and stay away from shoreline rocks until weather and surf conditions normalize. We will continue to monitor the winds and sea conditions in our area of responsibility."

The Coast Guard requests that the public not call Coast Guard facilities for weather information, but that they listen to weather broadcasts and track internet updates through: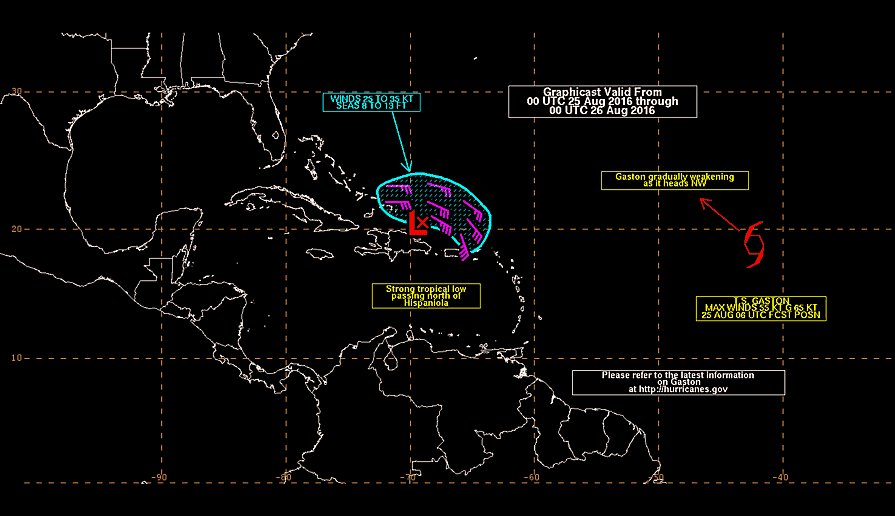 "Mariners should avoid unnecessary risk and use extreme caution if heading out on the water,"
said Capt. Megan Dean, Sector Miami Commander.
"Remember to remove your EPIRB from your vessel if the vessel will not be in use. EPRIBs left aboard vessels, with no one aboard, often get activated and result in a false alert. False alerts can cause a delay in Coast Guard search and rescue operations."
Here are a few
tips to help mariners protect themselves, their families and their vessels
:
Do not go out to sea in a recreational boat if you know a storm is approaching.
Contact local marinas to ask for advice about securing your vessel.
Marina operators are knowledgeable and can advise you on the best methods for securing your boat.
Take action now. The effects of a storm can be felt well in advance, and bridge schedules can and often shift from their normal operating schedule. Check with local authorities before entering any storm-damaged area.
When removing your EPIRB from your vessel, ensure it does not inadvertently activate which could signal a false alert. Furthermore, once the severe weather has passed, mariners are reminded to ensure the EPIRB devices are placed back on their vessels prior to the vessel's next use.
Do not rush to your boat. Boaters should not place themselves in danger to get to a boat.
Do not try to board a partially sunken boat. Seek salvage assistance from a professional. Storms move quickly and are unpredictable.
See also: